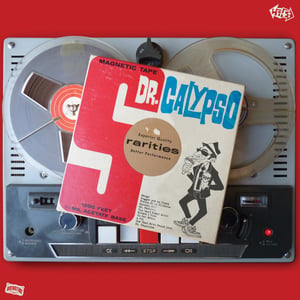 €

12.00
Los pedidos se enviarán a partir del martes 19 de abril.
Con motivo del RSD 2016, Dr Calypso nos presentan un disco de "rarezas" varias de las muchas acumuladas por la banda en sus 27 años de trayectoria.
Compilado por el guitarrista del grupo, Jordi Manyà, quien también firma las notas interiores, este disco nos ofrece temas provenientes de maquetas, caras B de singles, sintonías, recopilatorios y directos. Algunos de los temas ven por primera vez la luz.
Ordenado de forma cronológica, el disco se abre con una versión primeriza de "Mango" del año 1991 inédita hasta la fecha. Siguen un par de versiones de Linton Kwesi Johnson gravadas en el año 92 pera un recopilatorio en homenaje a LKJ.
Más adelante encontramos tres canciones provenientes de singles (Special Girl, Mr. Farlops y Can't Stand Alone) y que en su momento no aparecían en ningún álbum.
La cara B se abre con "Ritmes i Sons" y "Un nou motiu", ambos compuestos como sintonía y tema oficial del Festival de Joves Europeus del año 1998. Estos dos temas tan solo aparecen en los CD's regalados a los asistentes al festival.
Les sigue "A pèl", otro encargo al grupo, en este caso para la sintonía del programa homónimo emitido por TV3 en el año 2002.
El disco continua con la versión de "Now that we've found love" via Third World grabada en directo en el concierto de 20 aniversario del grupo con la colaboración de miembros de la Fundacion Tony Manero.
El último tema es una versión instrumental de la canción "Mr. Hapiness" del disco del mismo título, grabada por el saxofonista de Saktalà y The Fenicians Natxo Romero.
El disco ha sido masterizado por Mike Mariconda y cuenta con el diseño de Txarly Brown, grafista del grupo desde sus inicios.
Dr Calypso "Rarities" (Buenritmo Records, 2016) se presenta en vinilo transparente en edición limitada a 500 copias.